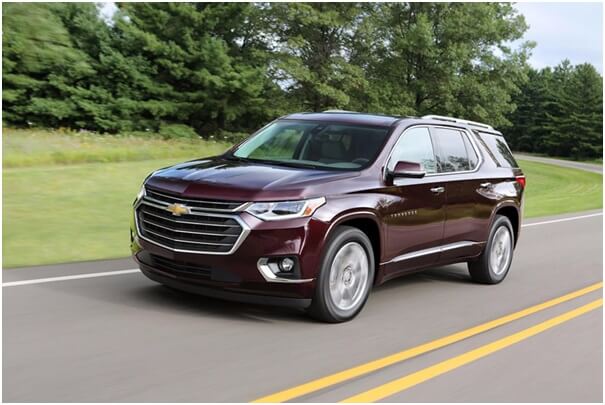 The current market of vehicles across the globe is now taken over by crossover SUV models of several shapes and sizes. Among them, the three row crossovers are making more business than the rest of the model types. In this scenario, recommending an ideal vehicle to our own circles is going to be pretty challenging, unless you keep a thorough knowledge and database of their pros and cons, which is a huge one.
The segment of three row crossover itself is over saturated. Among them, there are several models released by their respective manufacturers who are offering the same features, in almost identical looking vehicles. So, even if you pick one, you need to justify the reasons, why is it preferable from its closest rivals and in which perspective.
Here we have picked the 2020 edition of Chevrolet Traverse which has already won many accolades for the goodies it has packed in its lineup. We want to analyze, if this model of three row crossover from the house of Chevrolet is ideal enough to be recommended to people who are looking for one? And here's what we have found out from the sellers as well as buyers of the Morganton Chevrolet dealer.
The Plus Points
The 2020 Chevy Traverse is a full size three-row family crossover, that has not compromised even a bit when it came to offering enough interior space. Above that, all those who have experienced a ride in it have appreciated for keeping everything in place, be it a creamy ride on the roughest of surfaces, be it the comfort oriented interior that keeps you energetic even after long hours of highway drives, or be it the entertainment options offered on each of its trims, the 2020 Chevrolet Traverse has it all in the best of proportions it could get.
Moreover comes the diverse trim levels that serve the purpose of a crossover at all points through the cleverly distributed capacities offered through the trim packages named as L, LS, LT, RS, Premier, and High Country.
In all this, what attracted most of the driving enthusiasts is the availability of all-wheel-drivetrain, that keeps them engaged throughout the drives on all terrains. A 3.6-liter V-6 engine is chosen to power most of the Traverse trims which is mated to a 9-speed automatic transmission with either front- or all-wheel drive configurations. With this, a 2020 Traverse cranks 310 horsepower and returns 22 mpg of fuel economy from a combined trip, as rated by the EPA.
Overall Appearance
At the showroom of a famous Chevrolet dealer near Morganton the 2020 Traverse from Chevrolet looked like a smoothened crossover that shows its ruggedness only through its moves. It is a spacious family hauler that offers all possible creature comfort options through its well-equipped near luxury cabin.
Inside, the space looks clean with its no-frills approach, while all its equipment is intuitively arranged to serve their user-friendly purpose. the newly installedtouchscreen that can either be of 7.0- or 8.0-inches sits perfectly on the center console to maintain a good eye-level visibility for all.
All this made us realize that the 2020 Chevrolet Traverse has every good reason to be recommended as an ideal three row crossover SUV.
Featured