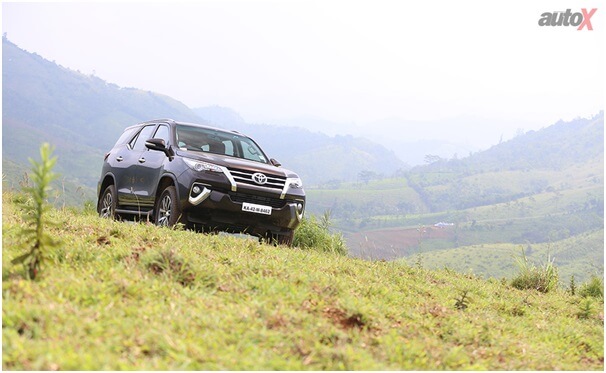 Prodigious, intimidating, and potent, this is how one could easily define these full-size SUVs. It's not a secret that Toyota has been on the forefront in this space with its Fortuner, for a number of good reasons. However, be as it may, the competition, too, has seen some large upgrades over the course of time.
Take the Ford Endeavour, for instance. It might not be a best-seller like the Fortuner, but it is remarkably great to drive, therefore proving its dynamic prowess as extremely supreme as opposed to the Toyota.
There's a silent contender in this space as well. Any guesses? Well, if not, it's the Isuzu MU-X, which has been around for quite a while too. It might not have been upgraded to meet the BS-VI emission norms as yet, but Isuzu has officially revealed it's soon going to release the same. As for the Honda CR-V, well, let's leave it out of this comparison since it's not as rugged as the others.
So, for this comparison, I chose a completely different contender. Yes, of course, the only one left is the Mahindra Alturas G4. In my opinion, the Alturas G4 seems to be the perfect rival to the Fortuner, since it also emphasizes on luxury – barring the obvious off-road capabilities – like the abovesaid.
So, which one looks better? On the record of sounding like a broken record, I would, once again, like to say that those looks are a subjective opinion. Some people like the Kia Seltos, while some may prefer the Hyundai Creta. Or, in this case, the Fortuner or the Alturas.
However, for an SUV that's big and intimidating, the Toyota  really scores well in this department. This is all down to its sharp nose and in-your-face stance. This also makes it quite compelling for the buyers. Now, to the Alturas side of things, it could be said that the brawny SUV from Mahindra is on the conservative and contemporary side. Therefore, while its design is neat and elegant, it isn't as intimidating as the Toyota's. So, now you know which one to pick for the design.
Come to the interior, and things seem to be just as similar to the exterior. Starting with the Alturas, it gets a neatly laid out dashboard with tons of controls for just about anything. However, its main talking point is the leather-wrapped dashboard finished in chocolate brown, which makes it look very upmarket as opposed to the competition. Space, of course, is good inside as well. The Mahindra also trumps the Toyota in terms of features, with its main dividing factor being the presence of a sunroof and a touchscreen with Apple Carplay / Android Auto support.
The Fortuner, on the other hand, gets a somewhat dull interior in comparison. It, too, is neatly laid out and all the controls fall easily to the hand but don't feel as modern or contemporary as its rival. And, of course, it gets a touchscreen infotainment unit, but it doesn't get modern connectivity solutions like the abovementioned. But, the most important of all, it misses out on a sunroof, which seems to be a proper purchasing factor for many consumers.
Lastly, on the powertrain front, both these cars come powered by a potent diesel engine. Where the Alturas G4 comes powered by a smaller 2.2-litre engine, the Fortuner gets a larger 2.8-litre mill. The Fortuner also gets a 2.7-litre petrol motor, but it's, of course, the diesel-powered variants that constitute most of its sales numbers. How well do these engines perform against one another is a question we'll only be able to answer in a full-on comparison test. However, I can surely say that both these motors are very refined and punchy.
The Alturas G4 is the winner of this detailed specification comparison test. But why? It has better equipment levels, a slightly frugal engine, and most importantly, it is more affordable than the Fortuner. But if dead-drop reliability is something that fancies you, there's nothing else that comes close to a Toyota. All in all, it's safe to say that both these cars are very well in their own rights, and you cannot go wrong if you pick either of those.
Auto