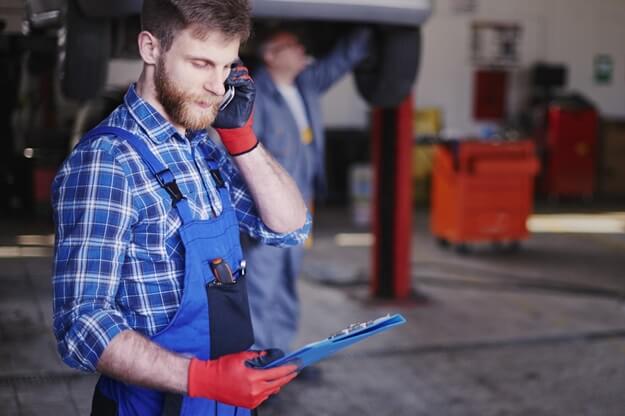 Repair shops have stood as one of the most important businesses and industries for many people for one simple reason: cars. One's car is very important as it can bring anyone anywhere when needed be. However, vehicles tend to wear down over time, resulting in it to be maintained periodically. Gladly, repair shops stand as the right businesses to approach if a car owner lacks the skills or time to repair their vehicle. The expertise of these repair shops is also enough to provide vehicles a brand new condition after maintenance. Even broken parts can be immediately repaired once you contact any open shop at the moment.
But for the part and perspective of a repair shop owner, it seems that deliveries can be a hassle to take especially if the shop has a lot of orders. No matter what the reputation of the shop may be, it will surely go down if even just one customer got their orders delayed. This may be due to an employee slacking off or may not be at work since the owner's not around. Another reason can be a lack of supply for repair that wasn't monitored.
The issues within the repair shop business are endless, and it gradually happens from unnoticeable up to a worsening occurrence that can ruin the business. But as a repair specialist in cars, the owner should act immediately to fix the damage in their own business. Sadly, the shop owner cannot handle all of these by themselves since they also have other commitments to do. Good thing that technology is always at our side when it comes to almost anything we need to do and repair shops can finally be managed with just a handy shop management system: Tekmetric.
Tekmetric is known to be the finest shop management system when it comes to repairing shop maintenance. This ensures owners that it will never be a hassle to manage the repair shop anymore, as they can finally see every number and details within the business without visiting the store anymore. Here are the amazing advantages that it can give to shop owners and managers:
Portable
You can access the app anywhere you may go. As long as there's an internet connection, Tekmetric can operate on real-time using your phone only. You can view anything that may happen in the garage, no matter where you go. The excellent server of the app's system ensures that any user can always take a visit to their garage even if they are in another city or country. Take note that other branches of your store can be monitored in here, not just one. So that means everyone in the shop will definitely perform responsibly.
Gives You Multiple Features
This platform acts as an all-in-one solution to any type of management process that you want to computerize. The shop management system definitely acts as your assistant manager when handling all happenings within the business. Here are some of the many features that it can grant you:
Scheduling – The app provides a calendar system where you can save certain appointments on the repair shop. You can also manage certain repair orders depending on the date where it was done. Emergency repairs can quickly be schedule in this system as well. Even meetups with your team can be managed here for them to be aware of it.
SchedulingEstimate PlannerDatabase AccessCustomer Updates
Estimate Planner – The app can also be used for estimating various repair costs depending on the damage that the car sustained. It can also provide estimations for certain maintenance costs. All it needs are the reasons for repair from the customer's end, and it can be encoded to the app for its own calculator to estimate everything the client needs to pay.
Database Access – You can gain access to databases that you can build depending on your purpose. You can provide a payroll system or a database of employees. You can also develop an inventory database to maintain all your supplies. You can even use the database as a tracker on it to provide a real-time update on your own supplies.
Customer Updates – You can also track when customers if their vehicles are getting repaired already or not. This can help you identify those who seriously need help from you.
Security For Businesses
The shop management system is known to have an enterprise-level security system to ensure that all information will become confidential. The security level of this app can be customized in a way where you can let assistants access administrator-level privileges over the system, or if you want them to have different levels like an employee or manager-level access to some of the app's features. Technically, all data can only be accessed with your permission and granted rights.
These are the notable benefits that will surely make your repair shop grow even further, as it is a need for technology to assist us with the rising demand of customers nowadays. Efficiency is definitely key in the business game, and repair shop owners will surely prosper in this modern era with the help of a shop management system like Tekmetric.
Car